Bed & Breakfast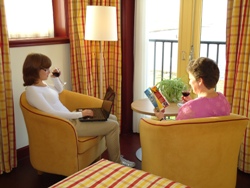 In 2007 the old Haystack was rebuilt in the style of its original design. The romance of former days, has now been provided with the comfort and luxury of the present.

On the ground floor is a double room, which is suitable for wheelchair users. The room has an extra wide bathroom with toilet and shower. The opening doors give entrance to the terrace. Each morning an ample breakfast will await you in the comfortable breakfast room.
On the first floor are two double rooms, the extra wide beds (90x220) will ensure a perfect night's rest. One of the rooms has a luxuriously bathroom with bath and the other room has a wide shower.
All rooms have a kitchen with refrigerator and the provision of tea and coffee making.
The first room on the second floor has a bathroom with shower.
The cosy chair offers a view over the lake called "de Leek", a lake with the possibility to fish or sail around. The last room has been provided with a giant bath and naturally you have a television in each room. If you wish, you can get your breakfast served in your room. All this luxury makes this room ideal as a wedding suite or to celebrate your (wedding) anniversary.

If you book the whole haystack building with family or friends, you can have use of the entire kitchen, which provides your group with luxurious accommodation.